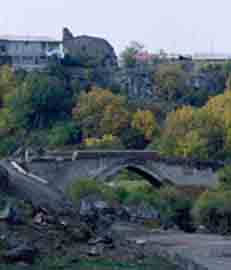 Ashtarak ("Tower") is the administrative capital of Aragatsotn, spread out in and above the gorge of the Kasakh river. The city is endowed with old churches, interesting museums, and some ambitious restaurant/hotel/casino complexes suitable for lengthy carouses. From the highway, a left exit before the massive half-finished
Oshakan, is most famous as the last resting place of Mesrop Mashtots, (d. 442) founder of the Armenian alphabet. Above his grave (19th c. gravestone) is a church rebuilt by Katholikos George IV in 1875. It has wall-paintings from 1960 by the artist H. Minasian. Excavations on Didikond hill, which rises just behind (S) of Oshakan, revealed a square fort of the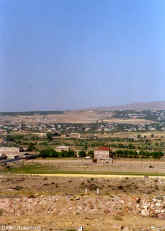 bridge winds down into Ashtarak, crossing via the lower bridge downstream. Turning right and continuing about 1 km, turn right again just after the main square to reach the Tsiranavor, Spitakavor, and Karmravor S. Astvatsatsin churches, the House Museum of the novelist Perch Proshian, and a view of the old bridge of 1664. S. Mariane church of 1281 is further W. It is marred by an unfinished early 20th c. basilica tacked on. On the right bank of the gorge above the medieval bridge is the new church of S. Sargis on early foundations.
The area has various interesting monuments (old bath, urartian through medieval irrigation canal, fort remains, medieval meal, beatiful houses from the end of 19th c.).
Ashtarak is also rich with beautiful khachkars mainly located in the cemeteries of the city. Just after the new brigde, on the right side of the main Guymri Highway, bypassing the city, on the left section of the Kasakh river gorge are scant remains of Bronze Age through medieval period settlement (the place is called by locals Darabavor), inhabited mostly in the Middle Bronze age. Down the gorge are the famous Darabavor caves used for refuge in the medieval times.
7-5th c. BC, with five palace complexes on the N slope. Just N of Oshakan, in a little valley called Mankanots, is a 7th c. S. Sion church, with beside it an unusual pillar on a plinth dated to the 6-7th c. and traditionally believed to mark the grave of the Byzantine emperor Mauricius or his mother, based on the fact that one Armenian historian says he came from here. Elsewhere in the vicinity are shrines of S. Grigor, S. Sargis, S. Tadevos the Apostle, a rock-cut Astvatsatsin, and a Tukh Manuk shrine atop the hill. The area has a series of rich Bronze and Iron Age tomb fields (Middle Bronze Age huge tombs of Nor Oshakan are situated SE). W of Oshakan is a bridge of 1706 over the Kasakh river.