UNDER CONSTRUCTION
The road ends at Merdzavan, founded in 1947 and home of various agricultural institutes.
The main road leads to the village of Zvartnots ("Place of Angels"). Marked on the highway (S) by an ornamental gateway and backward-looking eagle, the massive, centrally planned church of Zvartnots S. Grigor Lusavorich would have been a marvel in any case, though scholars disagree on how to restore the ruined foundations. The wedding-cake restoration in most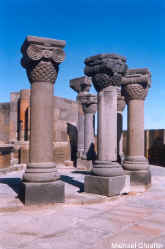 tourist books, three stories high with gallery, is unprecedented and probably incorrect. The church was built by Katholikos Nerses III (641-662) to house the relics of St. Gregory the Illuminator, presumably where he converted King Trdat/Tiridates in 301 or (more likely) 314 AD. Beyond the church, which shows signs of North Syrian influence and which has some interesting sculpted decorations, are remains of Nerses' palace and a winepress, with a tiny (closed) museum. Behind the winepress is a small Chalcolithic tell. In front of the museum is a 7th c. cuneiform inscription of Urartian King Rusa II commemorating the construction of a canal from the Hrazdan ("Ildaruni") River.