UNDER CONSTRUCTION
To reach the village of Verin Ptghni you leave Yerevan on the main Sevan highway.
Taking the U-turn at the traffic police (GAI) station soon after all the roads from Yerevan converge, before the Abovian turn-off, then immediately right, following an asphalt road that curves down to the right into Hrazdan gorge, one reachs Ptghni. Taking the first right turn possible into the village, thread along an unconvincing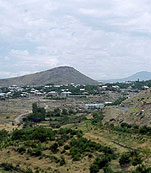 asphalt road until a grotesque, silver-painted concrete WWII memorial on the right looking fiercely over the gully. Take the first left thereafter, and the 5-6th c. church of Ptghni, an imposing ruined basilica, comes immediately into view.