Returning through Artabuynk to the main E-W paved road, one soon reaches the village of Yeghegis (until 1994 Alayaz), as attested by the rich sprinkling of antiquities. Entering the village, one sees on the right scant remains on the Hostun city, ruined by volcano and earthquake in Early medieval, then Yeghegis large khachkar of the 12-13th c. and on the
A few km E on the main road is Hermon, until recently Ghavushugh. Gyuney Vank, plausibly identified with the anciently attested monastic center Hermoni Vank, of the 9-17th c, is somewhere nearby up a difficult road, with S. Grigor Lusavorich church and a 12-13th c. cemetery.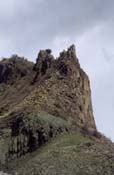 left a stone enclosure with khachkars commemorating the Orbelian family. Left on a narrow village road takes one first to the Astvatsatsin basilica, rebuilt in 1703, then to a small domed 13th c. church of S. Karapet with cemetery and then, on a green hill E of town, S. Zorats Cathedral or S. Stepanos, built in 1303 by a grandson of Prince Tarsayich Orbelian. The church has been extensively restored. Its name comes allegedly from the custom of consecrating arms and horses there before battle. In the NW part of the village, incorporated into house and garden walls, are substantial remains of cyclopean walls and caves/cellars. Right of the road inside the village is a small ruined basilica. In 2000, a team from the Hebrew University of Jerusalem under Professor Michael Stone excavated on the S side of the Yeghegis river opposite the village a Jewish cemetery with some 40 gravestones with fine Hebrew inscriptions, attesting to the existence of a literate and prosperous Jewish community in Yeghegis in the years around 1289. Somewhere on the mountain a few km NE are ruins of 13th c. Gyulum Bulaghi Vank (probably Upper Noravank, attested in manuscripts).