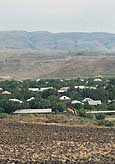 Further E is Urtsadzor (formerly Chimankend), with a turn S along the Shaghapi-selav river toward Shaghap and S. Karapet Monastery. S of the village is a 5-6th c. ruined basilica. There is an Early Iron Age cemetery. Beyond Urtsadzor, the road continues E along the Vedi river to a metal archway. Just beyond, the road forks, the paved road right leading up the
Next village SE is Shaghap (till 1968 Shaghaplu), with a ruined 12th c. church.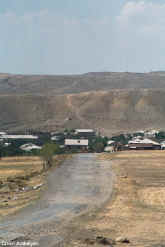 Vedi river past a sumptuous dacha. Soon after that, a dirt road left (opposite a farmhouse with a blue truck body) ascends a beautiful stream valley (camping) toward the ruined and uninhabited mountain village of Mankuk, with important ancient khachkars. However, the road is closed by a gate shortly after the camping area, and written permission is required from the Nature Preserve director in Vedi. The main track continues past several desultory hamlets and eventually switchbacks up and over the mountain to Martuni at the S end of Lake Sevan. This pass is not recommended for anyone but a well-equipped expedition unfazed by deep mud, late snow, and multiple unpromising, unsignposted tracks leading apparently nowhere. The left fork (dirt) leads to a padlocked gate at the entrance to the Khosrov Reserve, with the road gradually deteriorating. However, well before that, a rough fork left leads in a few hundred meters to a small fortified monastery called in the guidebooks the Gevorg Marzpetuni Castle. Following the main (right) fork a few hundred meters inside the reserve, there is a small mound with church ruins, scattered medieval and earlier pottery. The road follows the stream high into the mountains toward striking sceneries, and remains of a medieval site with beautiful khachkars.