UNDER CONSTRUCTION
Amrakits (formerly Kirov), this latter with a newish motel ($20/night, hot water) on the Stepanavan side. Just after the motel, look right across the gorge to see the ruins of Lori Berd.
The city and former regional capital of Stepanavan (till 1923 Jalaloghlu) is located on a dramatic green plateau beside the remarkable gorge of the Dzoraget river. There are two pensionats SW of town on the edge of the forest, the Vahagn and the Anahit, which accept overnight visitors (No hot water but the price is right). About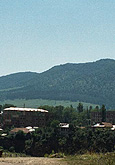 150 m SW of the main traffic circle (with huge statue of the town's namesake, the famous Baku revolutionary martyr Stepan Shahumian) is a modern bright orange tuff cultural center housing a museum to Shahumian. A ruined 5-6th c. church has disappeared, but there is an 11th c. restored functioning basilica church E of the main Vanadzor-Tashir road about 0.5 km S of the circle.