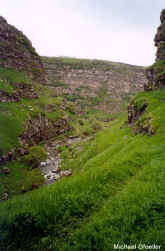 Crossing the bridge over the aptly named Dzoraget ("Gorgeriver") at Stepanavan and turning right at the traffic circle, bump along the road about 1.5 km until just before a cluster of pipe-shaped "temporary" shelters for earthquake victims. The field on both sides of the road is full of huge (10x2x3m) Bronze Age chamber tombs, formed from
Backtracking through Lori Berd, the NE fork leads to Lejan, with a 19th c. church on 5th c. foundations. Lejan hosted in 1907 the 3rd Conference of Borchalu Bolsheviks.
UNDER CONSTRUCTION
massive boulders. In some of them, rich bronze grave goods and horse burials were found. Continue to the village of Lori Berd. There a road angles right through the village, ending at the spectacular fortress of Lori ("Lori Berd"). This was the capital of David Anhoghin (989-1049) of the Tashir-Dzoraget Kingdom, and was a feudal center of the Kyurikian family. It was taken over by the Orbelian lords of Georgia in the early 12th c, then came under the sway of the Zakarian brothers Ivane and Zakare. When the Mongols arrived, Lori Berd was the capital of Shahn shah, Zakare's son.