UNDER CONSTRUCTION
A left turnoff in the center of Alaverdi leads N to the miners town of Lenrudnik.
Beyond Sanahin, the road continues N to Akner, from which you may be able to reach Kayan Berd, a brooding black fortress built in 1233. Kirakos Gandzaketsi reports that "Yovhannes, the sister's son of princes Zakare and Ivane, and the previous Yovhannes' brother's son [was bishop of Haghpat]. This Yovhannes built a fortress with sturdy walls between Haghpat and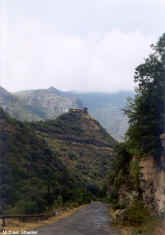 Sanahin. On account of this fortress, discord arose between the two great monasteries, to the effect that it was on land belonging to Sanahin. Prince Shahnshah, Zakare's son avenged Sanahin, since his father was buried there and he considered it their property, for Haghpat was under the Georgian kings' control at that time. As soon as bishop Yovhannes died, they pulled led down the walls of the fortress on orders from the Tatars." The fortress, which sits on a pinnacle above the Debed between Sanahin and Haghpat, preserves the small Dsevanki S. Astvatsatsin church. In the village is an Early Iron Age tomb field. Note that there is another Kayan Berd W of Ijevan in Tavush.