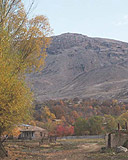 Staying on the N side of the river, a road goes to Vorotan, with 9-14th c. khachkars and a bridge of 1855 built by Melik Tangi.
The road thence to Shamb, with hot springs that local Peace Corps volunteers have successfully bathed in during the winter. Crossing the automobile bridge, the road reaches (1.1 km) a bend in the river, with a steep, rocky hill left of the road. Crowning the summit are the sparse remains of Vorotnaberd, a key site in Armenian history since AD 450, when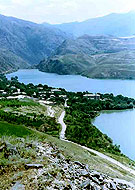 it was a stronghold of the rebels under Vardan Mamikonian. Border fortress of the kingdom of Kapan, it was captured by the Seljuk Turks in 1104, then recaptured by Ivane Zakarian in 1219 and given to Liparit Orbelian. It was captured by the troops of Timur Lenk in 1386, but the Orbelian brothers managed to persuade the Mongols to give it back. Karayusuf took it from Smbat in 1407, but in 1724 Davit Bek took it back from Melik Baghr. There are interesting pottery fragments of all periods on the slope, perhaps crockery dropped on the heads of successive invaders. One of the most famous sites of fossil plants of the region is situated W of the village, represented by unique types of leave fossils of pliocene-pleistocene periods.