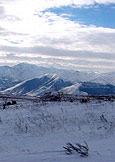 From the Sisian-Goris highway, a signposted road turns S to Harzhis, which is perched above the Vorotan Gorge among rolling volcanic uplands. About half way to Harzhis, where the power pylons cross the road, a dirt road leads back NNW to the substantial remains of the "Kotrats Caravansaray", built in 1319 by the Orbelian family as a way point on the Silk Road. The
Coming from the W, turn right just before the bridge to enter the town of Goris, which sprawls out along the gorge of the Goris River. Goris is famous for its fierce home-made fruit vodkas, its honey, and for the medieval cave-dwellings carved out of the soft volcanic tuff in the southern part of town. Goris is home to the Axel Bakunts house museum,
Armenian inscription over the door is badly weathered, but a Persian inscription survives above it. There are also standing stones of an early Iron Age cemetery nearby. An Aramaic inscription was found nearby. Beyond Harzhis, a rough dirt road continues SE to Shinuhayr, passing remains of a medieval hamlet on the edge of the gorge. There are castle remains somewhere nearby. Deep inside the gorge below Harzhis is a 13th c. bridge over the Vorotan.
commemorating one of Armenia's great prose writers, who died in prison in 1937, paying a delayed price for "nationalist deviationism" and past Dashnak sympathies. There is a regional museum as well, and new busts of some of the Dashnak leaders of Zangezur's resistance from 1918-21, first to Azerbaijani territorial aspirations and then to the Red Army. In November 1919, Armenian troops from Goris under Lt. Col. Arsen Shahmazian repelled a major but unadmitted Azeri push from Lachin and Hajilar to seize Zangezur, and thus assured Armenia's land link to Iran and Nakhichevan's status as exclave.