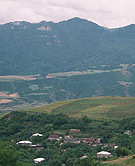 The Azatamut-Noyemberian road forks left (N) off the main Ijevan-Kazakh road a few km before the Azeri border. The road, paved and in reasonably good condition, parallels the border, but is normally safe for travel. What makes this road worth is a cluster of medieval churches set in lovely stream valleys amid the wooded hills W of the road. Almost immediately after taking
Next comes Sarigyugh (till 1951 Ghlchkend), birthplace of a whole herd of Heroes of Socialist Labor. On a little hill on the W edge of the village is a cyclopean fort of the 8-7th c. BC; cist graves 1 km W of village. Ruins of Tsakageghtsi church are located on summit of little hill 3 km W near another small Iron Age fortress.
UNDER CONSTRUCTION
the left fork toward Noyemberian, an unsignposted paved road turns W to the village of Achajur (once Achasu). Continuing on the main road through the village, at the top a muddy but passable asphalt/dirt road bears left (generally SW), winding along about 6 km (taking the main fork each time, if in doubt go right) to the beautifully situated hillside monastery of Makaravank. First is a picnic area next to an ancient spring. Passing through the gate in the circuit wall, the main church of 1205, built by Vardan son of Prince Bazaz, is on the right, and the gavit on the left. The facade of the gavit, which was built with a donation from Prince Vache Vachutian in 1224, bears sculptures of a sphinx and a lion attacking a bull. Inside the gavit, one reaches the earliest church, of the 10th or 11th c. Outside, E of these, is a small Astvatsatsin church built by Abbot Yovhannes in 1198 in memory of his parents and brothers, with sculpted portal. Beside it is a small ruined chapel. At the NW edge of Achajur is the Tmbadir Early Armenian fortress. Also near Achajur, about 2 km NW on a flat hilltop near Sevkar, is a ruined Nahatak (martyr) church probably of the 17th c, with an 8-7th c. BC fort. Some 3km NW of the village on a wooded height is S. Hovhannes church. In the SW part of the village is an old settlement with khachkars; 3 km SW are remains of Old Achajur with remnants of a medieval fortress, identified as Kayan Berd, atop Paytatap Mountain. There is an old shrine on the S slope. A dirt road winds 25 km SW from the W end of Achajur to intersect with another from Yenokavan, near which intersection is the Early Iron Age fort of Bardzraberd.