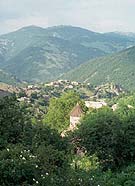 Take the first right up to Goshavank or Nor Getik Vank in the village of Gosh. The monastery was founded in 1188 by the great Armenian cleric Mkhitar Gosh (died 1213) with the help of Prince Ivane Zakarian as replacement for Old Getik Vank (SW near Martuni in Gegharkunik, on the Jivikhlu road), which was destroyed by earthquake. Mkhitar is most famous for
Continuing S of Gosh toward Chambarak/Krasnosyelsk on a worsening road, one reaches Khachardzan (formerly the village of Polad), with a church W of the village.
UNDER CONSTRUCTION
having compiled a collection of Armenian laws to help his flock resist the imposition of Muslim Shariah law.

The monastic complex is large and well-endowed, and was for a brief period an important center of Armenian medieval culture. The rectangular room next to the reading room stands out from the rest of the complex by its walls of large unworked stones. In all probability, this room is a holdover from an Early Iron Age fortress built on the site perhaps 2000 years before. The reading room itself is unusual, built in several stages, with a chapel/bell-tower built on top in 1291. Note the intricately carved khachkar, the famous "Aseghnagorts" ("embroidered"), standing beside the S. Gregory church doorway, the work of Master Poghos, dated 1291. Its mate was moved to the State History Museum in Yerevan. The Gregory the Illuminator chapel is richly carved. There is a museum in the village, along with alleged remnants of Mkhitar's house; his tomb church stands in the village W of the monastery.