UNDER CONSTRUCTION
On the right turn from Zaritap to the direction of Azatek is the village of Por. The disused village of Por has a 19th c. church and a medieval cemetery.
Continuing straight past Zaritap, one takes the unmarked left fork to reach the newer section of Martiros village. At the military barracks, turn left and bear left again to reach in 2 km the older part of Martiros, founded, as a huge khachkar still attests, in 1283 at the command of Prince Prosh and his son Paron Hasan. Opposite the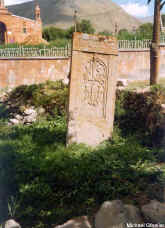 khachkar is a basilica built in 1866 and extensively rebuilt in the 1980s, including half-finished buildings for a future theological academy. Local woman named Taguhi Zeldian saw a vision here, undinspiredthell-Holy Trinity Second Jerusalem church. Just before entering this part of Martiros, a dirt road forks right, around the hill and across a flat field. Stop at the far edge, and follow the slope around to the left (E) toward a lone khachkar with several tumbled monument bases. A rough track SE follows a water channel around to a small dam in the gorge. Cross it, and climb about 100 m to a little door in the rock leading to the rock-cut Astvatsatsin church and side-chapel, founded by Matevos vardapet in 1286 at the behest of the Proshians (who also built the rock-cut Geghard). There is an underground passage, now blocked, to the stream, and caves below left of the church. In the nearby gorges are many artificial caves.