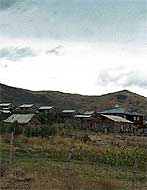 Aghavnadzor, has newly built S. Mariam church, 13th c. Aghjkaberd fort 1 km E; S. Astvatsatsin church of 12th c. 4km NE, with funerary monument of 1009; ruined caravansaray 4 km NW; and 4 km N the Ul Gyughi 13-14th c. church.
A kilometer past Areni on the main road to Yeghegnadzor is the turnoff right for Noravank, across the bridge and through a narrow gorge, whose stream has sadly disappeared into a large iron pipe. At the entrance to the gorge on the right is a cluster of high but shallow and unornamented caves, called Trchunneri Karayr (Bird Cave), in with Bronze Age child burials were
found. Further inside the gorge on the left is the Magil cave, going a considerable distance into the hillside. Note a huge boulder right of the road outfitted as a picnic site. Beyond the caves, the gorge opens out and the monastery comes into view. The paved road continues up and to the left, ending in a parking lot below the monastery.